Meet the Doctors
Dr. James Childress
A passion for excellence has been a constant driving force for Dr. James Childress. Attending UC Davis he graduated with High Honors with a BA in Zoology and was elected to both Phi Beta Kappa and Phi Kappa Phi national honor societies. He expanded his outlook on life by spending his junior undergraduate year studying abroad in West Africa and was also a member of the Varsity tennis team at UCD. Dr. Childress attended UC San Francisco School of Dentistry where he earned several awards for clinical excellence, served as class president and was elected to Omicron Upsilon Kappa National Dental Honor Society. Following graduation from dental school he applied for and was selected to a prestigious general practice residency program at UCLA, enhancing his training in diagnostic, restorative and surgical aspects of dentistry. Early in his career Dr. Childress was a clinical instructor at the UCSF School of Dentistry and was honored with a most outstanding instructor award.
Dr. Childress has provided dental care for the residents of Davis and surrounding communities for more than 30 years. His reputation for excellence in the quality of personalized care he provides his patients has been recognized both locally and nationally. Dr. Childress has been voted "Best Dentist in Yolo County" by the readers of the Davis Enterprise newspaper 13 years in a row! The Consumer's Research Council of America, a Washington D.C. research organization lists Dr. Childress as one of America's Top Dentists.
Giving back to his profession is something Dr. Childress holds dear. He served as President of the former Yolo County Dental Health Foundation for many years, helping raise money to provide treatment for those in need of dental care. He continues to donate his skills in a local area clinic for patients without other resources for care.
Dr. Childress is supported in his profession and shares his life with his wife, Lucinda, and their two sons, Parker and Eliot. When not at work Dr. Childress is an avid woodworker and bicyclist and enjoys doing family things. The Childress family resides in Davis and shares their home with 2 kitties and their third and fourth sons in the form of golden retrievers, Buddy and Max.
Dr. Samer Alassaad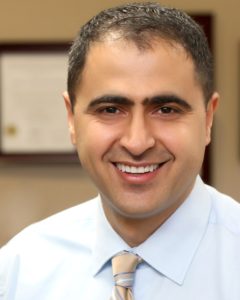 With a great passion for the art and science of dentistry, Dr. Samer Alassaad is committed to providing his patients the best modern dentistry can offer and to creating lasting relationships with his patients and his community.
Dr. Alassaad has been featured in national publications including the peer-reviewed journals of the Academy of General Dentistry and Compendium of Continuing Education in Dentistry, and in other national clinical dental magazines about various topics of general dentistry including cracked teeth, achieving technical excellence while integrating new crown technology, and minimally invasive cosmetic dentistry. He also writes oral health articles in the Davis Enterprise newspaper (See in the News for more information and links to all articles). Dr. Alassaad has lectured at the California Dental Association, Sacramento District Dental Society, and various local study groups about the early diagnosis and treatment of asymptomatic cracked teeth.
Dr. Alassaad received his dental degree in Istanbul, Turkey and his California dental license from the Dental Board of California in 2003. His education continued with many post graduate courses at the most prestigious dental institutions such as USC, UCLA, UCSF, and UOP among many others. He also received a Fellowship of the Academy of General Dentistry award and a Fellowship of the International Congress of Oral Implantologists award after fulfilling the educational requirements.
Dr. Alassaad maintains professional membership in the Academy of General Dentistry, American Dental Association, California Dental Association, Sacramento District Dental Society, and the International Congress of Oral Implantologists. He served as the president of the Sacramento-Sierra Component of the Academy of General Dentistry and currently serves as the Vice President as well as an Associate Editor of the California Academy of General Dentistry.
Dr. Alassaad has been practicing dentistry with Dr. Childress since 2003. Dr. Childress says of Dr. Alassaad: "I selected Dr. Samer Alassaad to be my practice partner from a group of very qualified applicants based on his sincere commitment to this office's tradition of quality patient care. Dr. Alassaad is uncommonly talented and I am always confident patients receive the high level of care from him for which this office is known."
Along with his wife Nihan and their daughters Aylin and Selin, Dr. Alassaad enjoys living in Davis and being a member of the Davis community. He has been an active member of the Rotary Club of Davis since 2007. Dr. Alassaad co-founded the Photography Club of Davis, serving as the club's first president and was also a photography instructor at UCD Extension – Osher Lifelong Learning Institute.